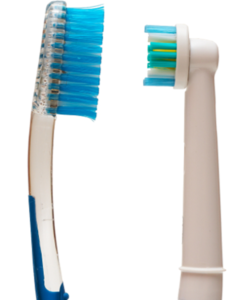 We love dental questions! In fact, all of our staff at Yuba City Orthodontics encourages patients to ask our staff any dental questions that come to mind. One question that we hear often is about the on-going debate between manual and electric toothbrushes. Which is better?
Before we go any further, we'll openly admit that we do not take sides in the manual-electronic toothbrush battle (we've had too many casualties in the Android-iOS war). We'll simply present the advantages and disadvantages of both and let you make an informed decision. Please note that there are a number of personal factors to consider when choosing a toothbrush.
MANUAL TOOTHBRUSHES
Before electric toothbrushes came into existence, the manual toothbrush enjoyed the title of undisputed champion of tooth cleaning products. It's staying power remains firm to this because of the following:
Advantages
Easy leaning curve. Manual toothbrushes are plug and play. It only takes a few minutes of practice to understand how to apply.
Variety. There is no shortage of manual toothbrush colors, styles, bristles lengths, grips, and angles.
Travel friendly. A small case or a bag is all that is needed for a manual brush.
Very cheap & accessible. You can go to virtually any store and find a toothbrush for a few bucks. You can save even more if you clip a coupon!
Multi-functional- they are amazing at cleaning household items. These include faucets,kitchen sinks, hair dryers, and even your fingernails. (Just in case you wanted to know). Make sure you use a new toothbrush and dispose of it.
Disadvantages
Technique. Unfortunately, many people brush incorrectly because they were either taught the wrong way or not taught at all. Brushing too hard, too softly or for too briefly can result in problems.
ELECTRIC TOOTHBRUSHES
Fast, spinning and thorough; electric toothbrushes are the favorite hygiene tool of many.
Advantages
Little effort required. The marvel of electricity! Just hold, angle and let the e-brush do its job. It's electric!
Very effective. The consistent spinning motion of electric brushes creates a more thorough cleaning than manual brushes in most occasions. Hands and wrists tend to get fatigued after brushing for a bit; especially in certain angles. Additionally, circular brush heads commonly found on electric brushes conform to tooth surfaces better.
Fun factor. The thrill of having a spinning electrical object in your mouth doing something that many find boring is great. Young children often tire of manual brushes and fail to brush properly. E-brushes can make brushing fun.
Disadvantages
The expense. Good electric toothbrushes are not cheap.
Travel hassle. Electric toothbrushes are a lot bulkier than manual ones. If you are traveling, you'll need a separate pouch for it and its charger.
Yuba City Orthodontics 1215 Plumas Street, Suite 500, Yuba City, CA 95991 Call (530) 674-5047