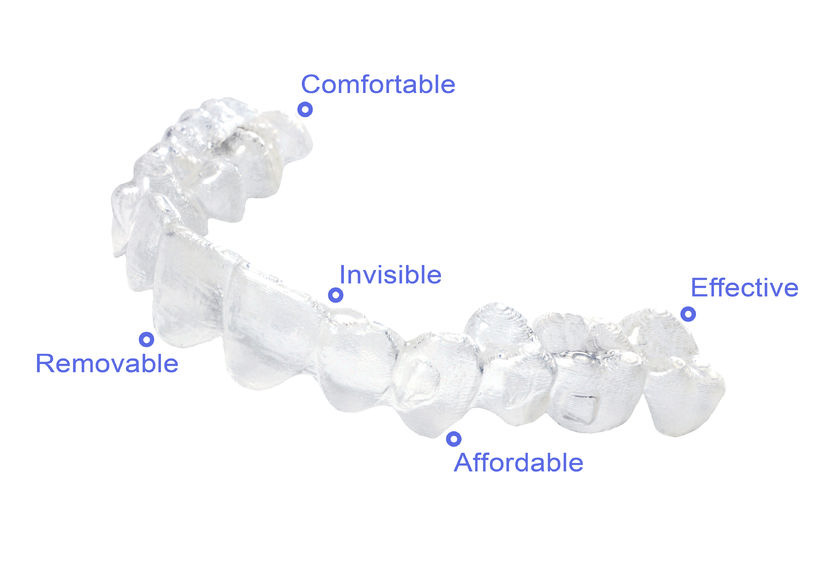 Do you have a desire for straighter teeth, but are turned off by the idea of metal braces?  Several of the patients that come to us have no desire to have metal braces.  We fully understand!  Moreover, we feature Invisalign® as a viable solution for most dental patients.  Before selecting Invisalign® as your 'go-to' treatment, it is important to understand two points, namely:
What Invisalign® is, and
How Invisalign® works, and
A Brief Look Into Invisalign®
Invisalign® is a dental method which uses a series of transparent aligners to straighten your teeth over time.  The aligning trays are composed of a thermoplastic (for full disclosure of the ingredients of the Invisalign® check the official MSDS).  Some of the foremost benefits of Invisalign® include:
A nearly invisible appearance on the wearer
Ease of hygiene since the trays are fully removable
Significantly less irritation than traditional braces which tend to chaff soft tissues within the mouth
Ability to combine treatment with traditional braces under certain circumstances
Whenever you come into either our Yuba City office desiring Invisalign®, we'll allow you to see aligning trays up close.  We want you to get a personal feel for the Invisalign® experience before you commit.  As you do, we'll explain how they work.
Understanding the Method Behind Invisalign®
Invisalign® alignment trays are designed for two-week usage.  Within every two weeks, the aligners gradually shift your teeth into a healthier position.  Before any treatment takes place, one of our orthodontists will create a three-dimensional virtual plan based on x-rays taken of your teeth.  The 3D virtual model will provide a map of how the trays will straighten your teeth.  Next, a mold is taken of your teeth so that a series of Invisalign® trays can be constructed to correct your smile.
Yuba City Ortho Invisalign® Consultation
One aspect of our dentistry that sets us apart from other Invisalign® providers is our comprehensive consultations.  We want you to have full knowledge of the procedure. Hence, we set aside time to answer any questions or apprehensions you may have in mind.  We have a variety of options to make Invisalign® and any other treatment we provide affordably.
Would you like to have a hassle-free consultation with one of our dentists about an Invisalign® treatment?  Call us at the number below or schedule an appointment online today.
1215 Plumas Street, Suite 500
Yuba City, CA 95991
(530) 674-5047