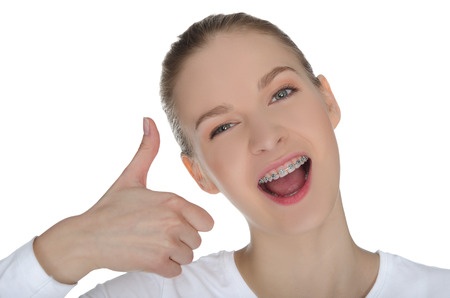 Our last blog, we primarily spoke about traditional braces for teens.  In this blog let's look into more detail about Invisalign for teens.  If you have immediate questions, give Yuba City Orthodontics a call at (530) 674-5047.
What Is Invisalign?
In times past, the only way to fix orthodontic problems like cross bite, crowded teeth, gaps, overbites and spacing issues was with metal braces. Advancements of lighter and stronger substances have led to a clear bracing solution—Invisalign.
Invisalign Teen® Benefits
The reasons why Invisalign is popular among teens (and adults) are plentiful.  Here are the most common:
Invisalign is a system that's been used for years in the United States. Instead of adhering metal braces to teeth, Invisalign is a series of clear plastic aligners that simply fit over the top and bottom teeth and guide them into place. It's become very popular because it is:
The clear aligners are comfortable to wear since they fit over the teeth and are nearly indiscernible by onlookers. The look of Invisalign aligners provides confidence to those who may be extremely concerned about their look.
Orthodontic appointments are less frequent because alignment trays are generally changed every six weeks (braces typically require 4-week adjustments). During the six-week intervals, patients change their alignment trays every 2
Invisalign aligners are completely removable. This allows teens to avoid diet restrictions that are associated with braces.  Brushing and flossing are much easier with Invisalign.  Also, those who play contact sports can do so without fear of major dental trauma.
Invisalign Disadvantages
Where Invisalign succeeds in providing aesthetic value to the wearer during the treatment, it lacks effectiveness in more complex correction circumstances. In comparison to metal braces, Invisalign takes a longer time to correct gaps and serious alignment problems. Consequently, each patient should carefully consider the outcome, timeframe, and specific dental issues they are facing.
Caring Four Your Braces & Your Diet
One of the most important ways that you care for your braces is through your diet. There are foods that can damage the brackets and wires that are helping your teeth to align properly. Any damage to these can result in repairs, extra dental appointments, harm to your teeth, and extensions in your treatment timeline. After you have your braces installed, our team will go over a list of food types that you should avoid during your treatment.
Nevertheless, there are a great variety of foods available to you when you are going through your treatment. Here are a few examples:
applesauce
bananas
crab cakes
deli meats
ice cream (without nuts)
Jell-O
mac and cheese
mashed potatoes
meatballs
milk-based drinks
milkshakes
muffins and cake (without nuts)
pancakes
pasta
pudding
salmon
shrimp
soft cheese
soft cooked chicken
soft cooked rice
soft tortillas
spinach
tuna
To give you an idea of some of the food types that we'll recommend that you avoid taking a look at the following list.
apples
bagels
caramel candies
carrots
celery
chewing gum
chips
corn on the cob
hard candies
hard pretzels
ice
licorice
nuts
popcorn
Starburst and Skittles
taffy