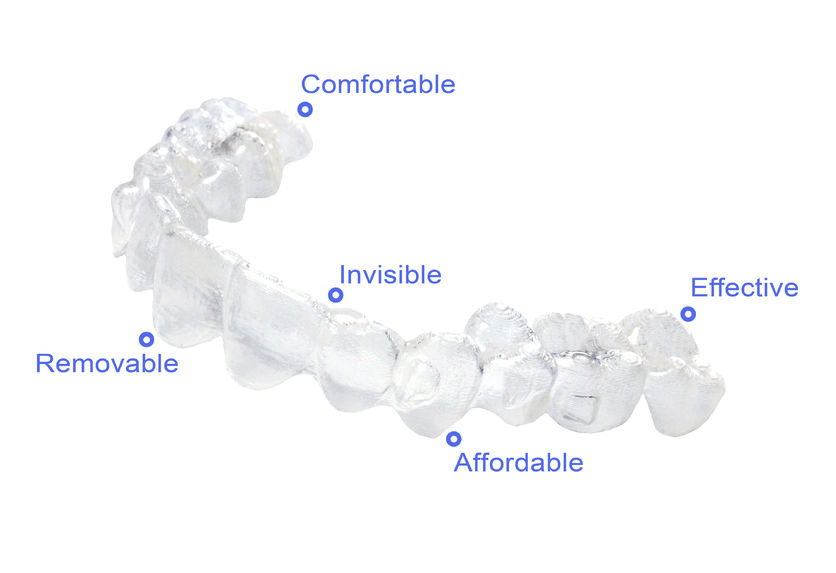 Correcting your smile without metal braces is possible through Invisalign.  What is exceptional about Invisalign is the flexibility that it gives you.  Ah, flexibility!  This treatment is especially useful if your lifestyle hinders you from using metal braces.  The Yuba City Orthodontics team has helped patients of various age groups to straighten their smile with Invisalign.  We'd love to help you too!
Awesome Invisalign Solutions
Our patients that qualify and opt for Invisalign are given customized trays that gradually reposition teeth over several weeks.  We tailor the trays to each patient by using our 3D imaging and impression technologies.  With these on-hand, we can formulate an Invisalign strategy that will address your specific orthodontic need.  Each set of Invisalign trays are meant to be used for approximately two weeks.  A series of transparent aligners are created to straighten your teeth.
Benefits of Invisalign
If you are interested in re-aligning your smile with Invisalign, there are several perks to your choice.  Consider the following:
In comparison to metal braces, Invisalign wearers have less dietary restrictions. Also, there are no problems with getting food or other substances stuck within braces, brackets, and wires.
Invisalign is removable, which allows for greater ease of cleaning teeth, eating and general comfort. Conversely, braces can only be removed by a dentist.
Your customized trays are easier to clean than braces.
Most patients feel little to no irritation on gums, lips, and cheeks when using Invisalign. Braces take some time to get accustomed to, and moderate to severe irritation of mouth is expected.
What to Expect
Before you decide on Invisalign, you should expect to have a dental exam first.  The examination will evaluate if you are a good candidate for Invisalign.  Each person's dental health and lifestyle plays a vital role in the success of an Invisalign treatment.  Dr. Micahael Larson DDS MSD understands how to maximize the results of Invisalign treatments, so if you are approved, he will give you specific information to aid your progress.
If you are ready for an Invisalign evaluation, gives us call.
1215 Plumas Street, Suite 500
Yuba City, CA 95991
(530) 674-5047